We tried Baleen during SWFL Sizzle Restaurant Week for the $36.00 three-course menus. Balle is located inside the La Playa Resort on the beach. The restaurant has one level inside looking out over the beach and a few levels outside also overlooking the beach. Some tables outside are under the verandah and others are under umbrellas. It is a lovely setting, especially for the sunset. The inside dining room was simple and looked to have been renovated in the past 2 years. I found the chairs to be extremely comfortable! My boyfriend said that his Manhattan (his drink of choice whenever we go out to a nice dinner) was one of the best, if not the best he has ever had. I did notice it smelled smoother than most. I don't remember what drink I ordered but it was some special mixed drink and it was so good, I had 2!
I ordered:
Shaved Vegetable Salad – baby carrot, beet, radish, sprouts, carrot greens, vinaigrette
Flank Steak – Blueberry Mole, Baniato Puree, Street Corn Succotash
Chocolate Orange Mouse Bar – Blood Orange Gastrique, Coconut Crunch
The salad was simply amazing. One of the tastiest salads I have ever had. I can't even explain out good this was and how perfect for a hot summer day to prepare your palate for dinner. I ate every last bite. The steak was done to order (very well-done) and still was juicy and delicious. The other "stuff" on the plate was not just decoration nor was it to cover up a bad steak. Everything, everything was delicious. The blueberry part did not taste anything like blueberries, but it was amazing and a much better accompaniment than a blueberry flavor may have been on steak. I ate every bite, not a thing to take home. I do not like coconut at all but was talked into ordering the Mouse bar and I am glad I did, it was again, amazing! It was perfection on a plate. Chocolatey but not overwhelming. It was just the right size and taste.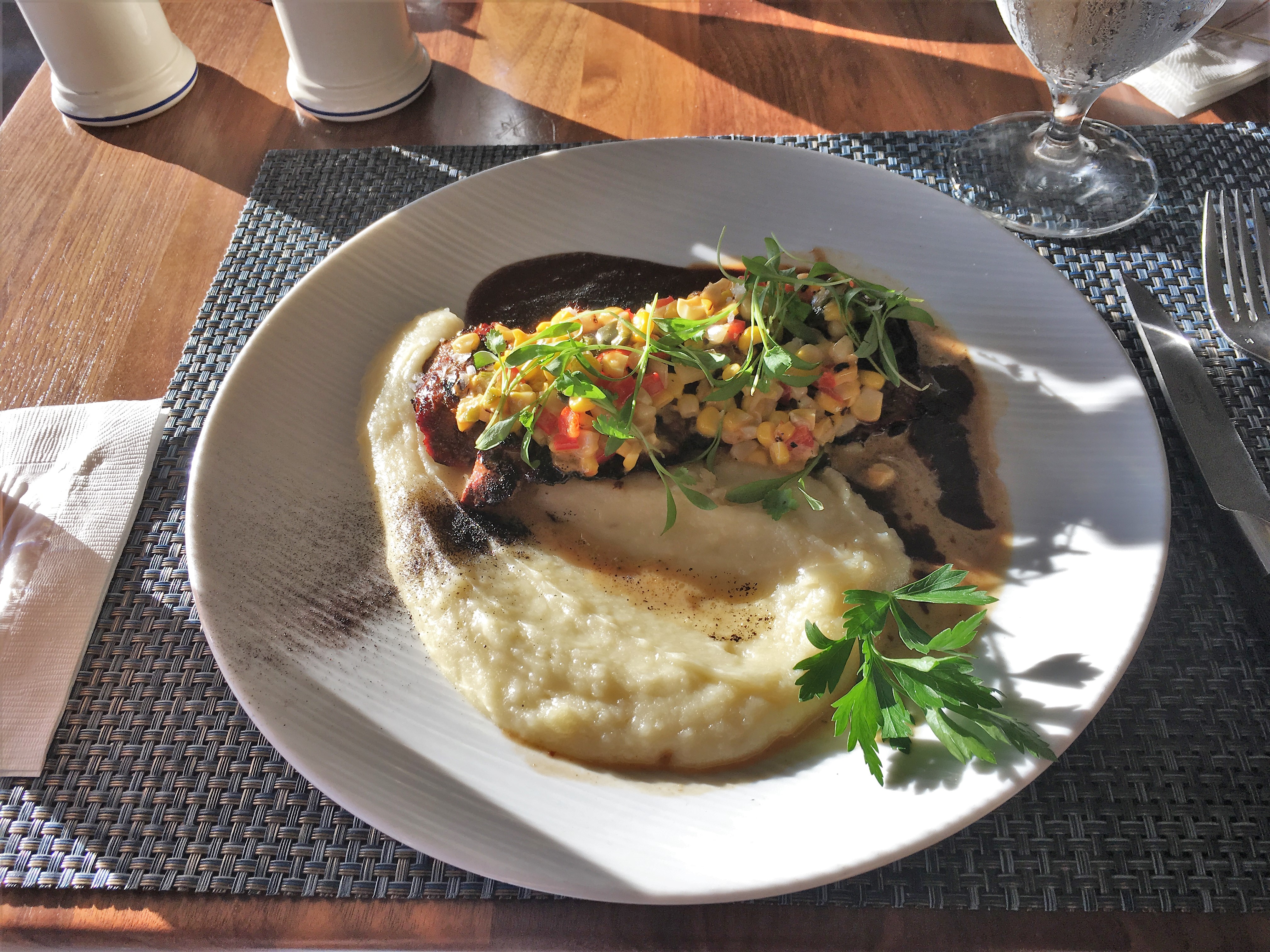 My boyfriend ordered:
Leek & Artichoke Soup- poached shrimp and mango relish
Roasted Rainbow Trout – pesto creamed baby kale, marble potato
Fig & Pear Crostada – Salted Carmel Ice Cream
The boyfriend said the soup was a bit on the cold side even though it was supposed to be served hot, this is quite the turn-off especially with seafood in it. The flavor was an interesting combination. The Trout was cooked and spiced to perfection. Even I, generally not a fish eater, enjoyed it. Like my dish, all the little accompaniments were a perfect pairing and just as good as the featur item. The Crostada was a very different treat for both of us. It was more like a morning pastry of some sort. It was light in flavor but in the very best possible way. It was quite large but not a bite was left on the plate.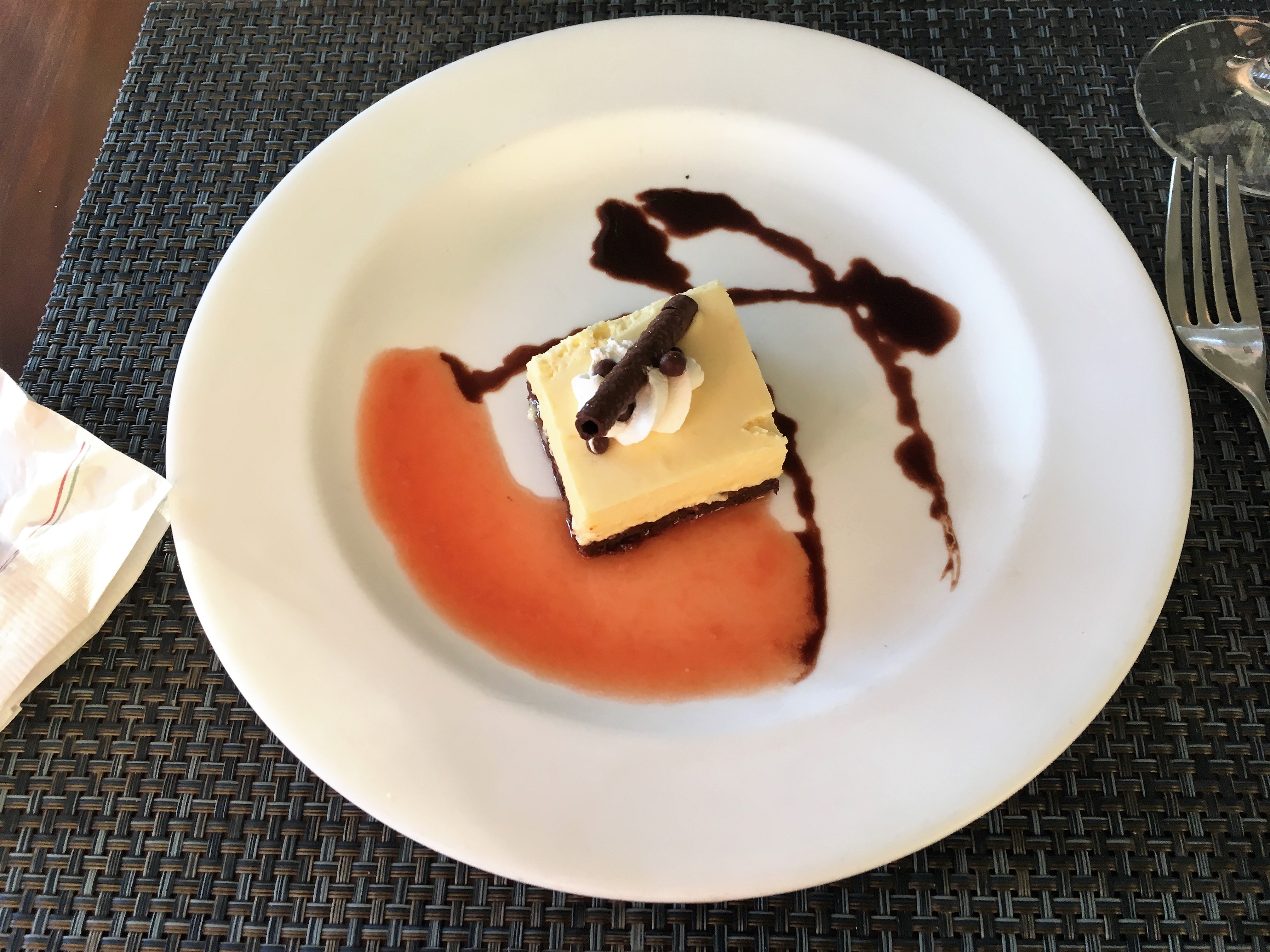 We enjoyed our evening so much that we purchased a gift card for a friend before we left for the night. We will definitely be back, and we will surely recommend it to our buyers while they are here looking for property.